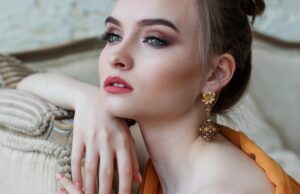 What earrings to wear? Tips for making the right choice
Indeed, not only must they respond to our tastes and our desires, but they must also match the shape of the face, the haircut, the skin color… and the outfit. Depending on the occasion, fashion trends, look, the earrings change style to accompany women on a daily basis. Here are some tips for choosing your next pair of earrings.
What earrings to wear for a wedding?
If there is one occasion for which we pay attention to the smallest detail, it is the wedding. You have to choose the dress, but also shoes, a bouquet and a multitude of accessories, including jewelry. And these must sublimate the bride as well as her outfit. To choose your wedding earrings, think about the style of your dress. If it is white and sophisticated, a simple pair of white pearls mounted in earrings will be enough to magnify your face, especially if you have your hair up. Always elegant and refined, white gold and diamond earrings are also a must in terms of wedding jewelry. If you decide to wear your hair loose on D-Day, you can turn to more showy curls, like pendants.
If you are invited to a wedding, also bet on the elegance of your outfit and your jewelry. Discreet curls are always the best tone for this type of event. But it is also quite possible to play the card of originality, with fancy and colorful curls.
What earrings to wear with glasses?
If we are used to choosing our earrings according to our hairstyle and outfit, it is also important to think about associating them with our glasses. For sight or sun, glasses offer the most varied materials, colors and shapes. So much so that it is not always easy to choose a pair of matching earrings. To see more clearly, first try to coordinate the size of jewelry and glasses. The ideal being that these accessories do not compete. Play on contrasts, especially in terms of materials and colors. And do not hesitate to do tests in front of a mirror to be sure to adopt the right pair of earrings.
What earrings to wear to a party?
For a dressy evening, nothing beats a nice pair of earrings. Opt for models in precious metals, such as yellow gold or shimmering silver. To shine with a thousand lights, do not hesitate to take out your models of earrings adorned with diamonds or any other precious stone. Fine stones are also recommended. In any case, for this great occasion, you will finally be able to wear your most precious and beautiful jewels. Treat yourself. Whether it's discreet earrings such as stud earrings or exuberant jewelry such as "ear cuffs" that adorn the entire ear, your jewelry will make you shine and enhance your look.
What earrings to wear with a lace dress?
Lace dresses are characterized by their lightness and finesse. To match them with jewelry, why not play on the same codes. Adopt fine and discreet curls that will perfectly highlight your outfit. To highlight the romantic side of your dress, you can also choose curls in the shape of feathers or wings. The filigree or openwork models will also go well with the lace of your dress. If you prefer to play on contrasts and energize your little lace dress, choose a pair of offset curls.
What earrings to wear for the 2nd hole ?
Do you have multiple piercing holes or piercings in your ears? But you don't know which earrings to wear? Several solutions are available to you. The first is to match different pairs of earrings. For example, you can multiply the stud earrings by playing on the differences in patterns, materials, sizes… You can also wear different types of earrings, such as a ring and an ear stud, or a dangling earring and a ear ring. To avoid having to coordinate two different pairs of earrings, opt for ear jewelry models that require two holes. This is the case with certain "ear cuffs", these jewels that encompass the entire ear. Some buckles are also in two parts,