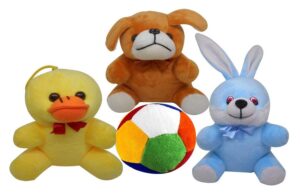 When to buy a soft toy for a baby?   
Baby can be offered his first cuddly toy at 5 or 6 months , but not all soft toys are created equal at this age. If you decide to buy one for your child at this time of his life, he must have a first quality: softness . The material and texture of the plush can change with baby's age. Which model do you choose over the months and years? Which soft toy is suitable for your child's development? Follow the guide.
1. Soft toys for babies from 5 months :
It's the age of the first cuddles with his very first cuddly toy . This one must be chosen at the right size above all. But how to recognize the right dimensions? Pay attention to the thickness, height and width of the comforter. It should be about baby's height when seated. It's important that he can wrap his arms around her and hug her .
The feeling of softness embodied by baby's first cuddly toy is due to its fairly soft character, but not too much. Psycho motricians do not recommend cuddly toys that are too soft , which sag too quickly and which cannot serve as a real companion for baby in this case in his motor development.
At 5 or 6 months, babies may tend to favor certain parts of their stuffed animals more than others. For example, it can attach to the bear's ear, its paw and even the tag. Above all, do not panic, this is completely normal. Baby tries to reassure himself by becoming fond of these parts of his cuddly toy .
2.The ideal soft toy for babies from 8 months :
Around 8 or 9 months, baby understands that he is a whole person and distinct from his mother. This is a bit like the period of his first separation anxieties. He can then reassure himself through a "transition" object such as a comforter . It is at this age that his cuddly toy really begins to be familiar to him.
If baby has not yet had a cuddly toy during this period, the choice of the ideal cuddly toy must also be made according to its size. We are based on the same principle of a dimension more or less equal to the size of the baby when he is seated. However, a stuffed animal or two is enough to reassure baby at this age. It is not recommended to overload his room or his bed with too many stuffed animals , baby must be able to distinguish which one can become his best friend for a long time.
Opt for a few models that you also like, because stuffed animals are likely to become full members of your family for several months or even years. It is also at the age of 8 or 9 months that baby generally chooses his cuddly toy, the lucky one of his heart who will become his confidant and his companion.
Around 8 or 9 months, baby begins to use his hands and fingers a lot to pinch and grab his stuffed animal. His cuddly toy must therefore be chosen very firm, but still light so that he can carry it everywhere. In addition, the slightly firmer comforters can be placed on the ground. Baby will therefore be able to crawl well to catch it. You can also choose a multicolored soft toy to help your child in his
3.The right soft toy for your 12-month-old baby :
One year is the age when baby wants to arouse his curiosity. He likes to discover things, touch everything and go to places in the house other than his room. At this age, babies should be able to move very easily with their cuddly toy , even if they are not yet walking.
Choose one that is small and not bulky. He must be able to catch it easily whether he is walking on all fours or starting to get up by clinging on. Activity soft toys are suitable for a 12 month old baby. A rattle comforter, for example, is an ideal choice. Some plush models also have a small mirror, small pressure buttons and can play wake-up music. A 12-month-old child appreciates comforters with the image of animals or cartoon characters . For example, give him a reversible Spiderman plush toy .
4. The ideal companion for a 2-year-old baby :
His cuddly toy gradually becomes his playmate at 2 years old . It is his best friend with whom he plays and his "baby" that he takes for a walk. The child begins to enjoy various imaginative games at this age. It is with his cuddly toy that he will reproduce his daily habits. He can give him food, for example. Often the cuddly toy simply stays by the child's side while he is playing or eating, to further reassure him with his presence .
At 2 years old, baby has much more strength. You can offer him a slightly heavier plush toy of about forty centimeters that he can already lift. 2 years is also the age when the child likes to collect stuffed animals . He makes friends with them to sleep alone in his room , for example. They also become real supports for him when he experiences a few minor worries, after a small fall or heartache. The stuffed animals then become a kind of lair for him, an attachment and a guarantee of security .
Musical stuffed animals also interest him more. Shapes and colors are for all tastes. In addition, the music activation handle on the plush must be clearly visible, accessible and easy to operate. Typically for 2-year-old babies, it may be a large, well-colored button on the belly of, for example, a teddy bear.
5. The giant stuffed animal from 3 years old :
Opt for this concentrate of tenderness and love in a large format! A giant soft toy is a companion that reassures, especially by its size and its dimensions which exceed the classic versions of what is done on the market. A plush can be called giant when its size exceeds 70 centimeters. But manufacturers go even further by offering models that can go up to 350 centimeters.
To choose the right size for your child's giant stuffed animal , it is better to take into account the dimensions of his room. Indeed, there is no point in buying a model that will only clutter up a small space.
XXL cuddly toys also come in different shapes, including the timeless bear that all children love. The unicorn plush or the rabbit plush are other classic shapes that are also of interest to 3-year-olds. Apart from their size, giant stuffed animals also embody an even more accentuated true companion side compared to small stuffed animals . The child has the impression of being with a "real" life-size companion who can, for example, reassure him and whom he will cuddle in the absence of his parents. The giant stuffed animals indeed look a little more realistic.
For the purchase of a giant plush, it is necessary to redouble vigilance as for its quality. A hypoallergenic model is ideal here too. The plush must be resistant to shocks and friction and all its added external parts – eyes, clothing buttons, etc. – must be well fixed to avoid any risk for the child of swallowing them for example.
6. The other advantages of the giant plush :
The big teddy bear ensures an unconditional presence , as we know. But it is also a play accessory for the child. He can for example climb on it to jump in the presence of an adult on the other hand, or ride a horse on his back.
The giant plush is also a very important socialization lever for the child. It is with his big cuddly toy that your little one learns the concept of playing in pairs or in a group.
The giant plush is also a timeless game , because it never goes out of fashion. It is therefore a good investment, because it is profitable. In addition to the actual advantages of this type of plush, it also remains a decorative element for the child's room .
7. The different forms of soft toys for children :
The plush can take the form of any animal. The teddy bear has been children's favorite cuddly toy for a long time. He is plump with his little belly which makes him look even more reassuring for the little ones.
In addition to this most common model on the market, the plush can also represent a rabbit , a dog , a monkey or a cat . Large African animals such as the giraffe, lion or panther are other shapes that are also in high demand.