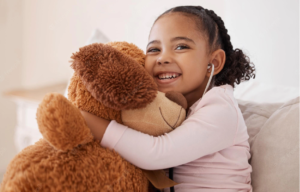 Shopping guide: how to choose a soft toy for a child?  
Giving a teddy to a child is a great way to make him happy. A new comforter is always welcome! He will always consider him as his new friend and his new playmate. But you still have to find the plush that really suits your child. So as not to deceive you, let us help you through this guide!
Why give a teddy to a child?
The soft toy is an essential and timeless gift for a child. It is a safe bet that gives him joy and happiness. But that's not all !
Plush also provides emotional security for your little one. In his presence, your child feels more reassured and safer. Whether during playtime, walks or sleep, he will no longer feel alone.
Also, children tend to confide in their stuffed animals . He talks to her and tells her everything he feels. This allows him to evoke his emotions and develop his language skills.
His creative spirit also develops when he considers the plush toy as his faithful companion. He always finds ways to install it in a pram or to sit on a chair.
What comforter for what age?
The comforter plays a very important role in the development of the baby, especially if the size suits him. To find the ideal model, the choice of plush must be made according to the age of your little one:
From birth to 18 months
From 5 months, your child will need a cuddly toy that can accompany him and guarantee his safety. This is essential, especially if you wish to have your baby looked after by a nanny.
Choose a small plush (but not too much). Turn to the purchase of a blanket that he can hold in his little hands and that he can cuddle.
From 18 months to 3 years
This is the time when he develops his motor skills and creativity. He will need a soft toy that will accompany him during his playtime. Bet on a medium version. You can also turn to an exceptional cuddly toy such as a stuffed animal to dress up for example.
From 3 to 6 years
Because your child will now go to school, he will need to tell his stuffed animal everything. He will tell her all his adventures, his little sorrows as well as his greatest joys.
At this age, you can choose a large plush to accompany your child in his new experience.
Additional criteria to narrow your choice
The choice of soft toy for a child depends above all on the age of your child. But it also varies depending on your budget and the needs of your little angel. Set the budget and browse a few store sites to find the most suitable model.
Another criterion to consider is the quality of the plush. Because your child will spend most of their time with their stuffed animal, it is better to turn to a high quality toy. This is to ensure the safety and comfort of your child.